Welcome to our site!
PresenCE is the collective term for a group of Christians in Portaferry, coming from all four of the established in the town. You can read more about the objectives at the bottom of this page.
On Monday 10th January we say formal goodbyes to Hugh Anderson one of the founding members of presenCE. Hugh died Wed 5th January.
Hugh and Anne were key players in the birth of presenCE in 2005 and its subsequent development. Hugh drafted the statement of common beliefs and objectives. Namely: 
The message of Christ is as relevant today as at any time in history and is vital in providing meaning and direction in life.
To pray for God's presence to be at work in our small town so that people will follow Jesus Christ more closely.
To demonstrate the relevance of Christ to young people by creating opportunities for friendship, fun and service to the community.
To provide help and support to the whole community as they exercise a living faith that fully respects and honours their own faith tradition.
These statements suggest the measure of the man who loved and followed Jesus and who loved Portaferry and its people. 
We send deepest sympathies to Anne, and all of the family. 

The audio recording of the 2022 Open Hour New Year reflections held on Saturday 8th Jan at 11am, is available below.  A video recording is available on request.
Pictures from – Carols on the SQUARE
On Thursday 9th December at 7pm, people joined us outside the Portaferry Market House to
to listen and join with the choirs in singing Carols.
Choirs taking part were: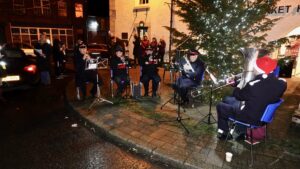 St. Mary's Primary School, Portaferry

Portaferry Integrated Primary School

The Salvation Army

The Victorian Singers

The Folk Group