Welcome to our site!
PresenCE is the collective term for a group of Christians in Portaferry, coming from all four of the established in the town. You can read more about the objectives at the bottom of this page.
Coming soon – the Gamma Book Club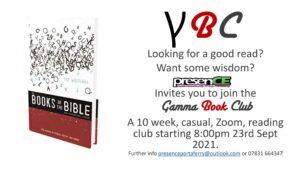 We did Alpha, we did Beta Book Club and had a great time at both.
So presenCE GAMMA Book Club is coming up.
Starting 23rd September, 2021 at 8:00pm for 10 weeks. We will convene by zoom but hopefully be able to add a physical get together sometime as well.
We are going to study "The Writings" – a collection of song lyrics, wisdom writings that include some pithy proverbs, with a smattering of history.
As before, we will read the text at our own pace and place, then come together to discuss in groups of 8-10. We are all teachers and learners. There are no experts! There are therefore no wrong questions and no wrong answers!
Please would you let me know if you are interested in attending.
Please respond to me or Mike who has kindly agreed to be our zoom guru. If you have reservations because of doing zoom please relax. We will do a rehearsal with you in advance to make sure you are comfortable with the technology. Phone, tablet or computer – whatever suits you. Don't let that be a barrier to your participation.
I look forward to hearing from you and hope you will join us. Please invite others to join us. This is NOT a closed shop. People of all faiths or none are all welcome.
Warm regards
Maureen